How do adult Scouters renew their roles in MyScouts

All 'Active' Scouters 18 years of age and over will receive a membership renewal email that guides to renew their role in MyScouts annually.
The option to renew an adult Scouter role in MyScouts is listed on the left side 'My Menu' listed as 'Volunteer Renewal'.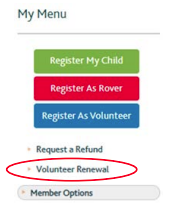 How do youth Scouters (18 and under) renew their roles in MyScouts?

New and returning Scouters under 18 years of age will need to have their parent/ guardian complete a new registration for youth annually, there isn't a 'renewal' option for youth volunteers.
Can Group Commissioners or Registrars renew roles on behalf of Scouters?
Scouters must renew in their roles independently. Neither Group Commissioners or Registrars can renew on another Scouter's behalf.
Help Centre
Still need help? Please feel free to contact the Scouts Canada Help Centre.