Youth Volunteers are Scouters 14-17 years old. Youth who volunteer as Scouters are, traditionally, participants in Scouts and Venturers. Youth Volunteers are seeking leadership and service opportunities within Scouting. Like adult Scouters, they hold a position of trust and have a duty of care to younger children.
Youth who are not members of Scouts and Venturers are also able to become Youth Volunteers. These youth are required to complete the same Volunteer Screening Criteria as youth who are registered in the program.
How to register a Youth Volunteer
Register a Youth Volunteer: Youth Volunteers are registered by a parent/guardian since consent for a volunteer role must be provided by an adult.
Refer to: Reference Checks FAQ to prepare for the application; this article explains who to include as your references within your application.
Step 1: The parent/guardian logs in to or creates their MyScouts account and selects 'Register as Volunteer,' uses their postal code to search for local Groups to volunteer with, and then selects Register as a Volunteer for the Group they wish to Volunteer with.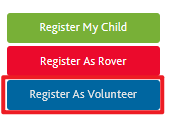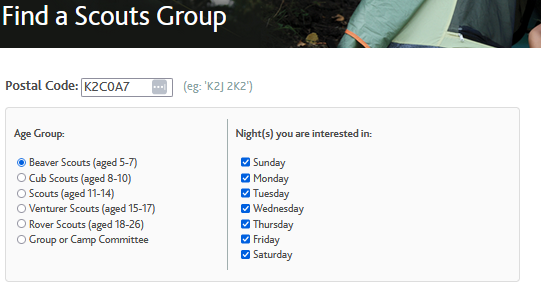 The parent/guardian can choose which member of their family their are registering. If the child profile doesn't exist yet, select New Member to create it, and then follow the on-screen prompts through the registration process.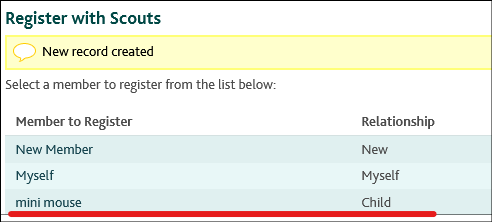 Step 2: Once the youth is registered in their volunteer role and listed as Pending update the 'Contact Email Address' in the youth account to a new email address that is not currently in use for a MyScouts account. In the youth account go to Member Options select Contact Info and update the youth's email address to a new address not already being used in MyScouts.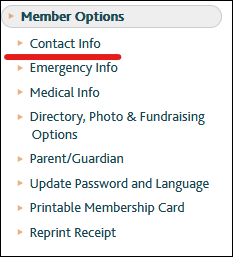 In the YOUTH account update the email address to a new email address that is not currently in use in MyScouts. This is the email address the youth will use to access their account independently. They need to be able to do this in order to complete online learning and become a youth volunteer.

Step 3: Log out of MyScouts
Step 4: Log back into MyScouts using the new email address listed in the youth account. Include the new youth address in the email field and leave the password field blank. Select 'I forgot my password' to have a 1 time password link. This needs to be done because this new account doesn't have a password connected to it yet.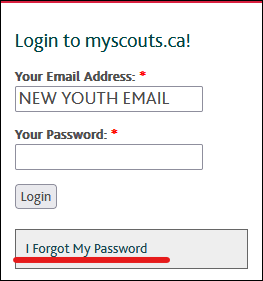 Step 5: Select the one-time access link from your email inbox & follow the directions to set a password.
Once set, youth will be able to login to their MyScouts accounts independently.
If you are unable to gain access to MyScouts via these steps please contact the Help Centre.
How to renew a Youth Volunteer
Youth members must be registered every year by their parent/guardian, they cannot be 'renewed' in the same way an adult Volunteer registration is.
To do this, the parent/guardian logs in to their MyScouts account and selects 'Register as a Volunteer.' A list will appear (screen shot from question 1) asking who is being registered. The parent/guardian would select the youth's name.
When the youth turns 18 they are no longer a 'youth' in our system and the ability to 'renew' as an adult Scouter becomes available in their account.
Do youth volunteers count towards Ratio and the Two Scouter Rule?

Yes. Youth Volunteers do count towards Ratio and the Two Scouter Rule as long as the section (Colony, Pack, Troop) have at least two registered Scouters who are 18 years of age.
How do screening requirements differ between youth and adult volunteers?

Adult volunteers are asked to provide a Police Record Check and Vulnerable Sector Check. Youth volunteers cannot receive these checks due to their age.
Youth are also interviewed a bit differently using the Interview Assessment Guide for Youth Aged Applicants
What about Scouters under the age of 18 and the Two Scouter Rule?
Youth under the age of 18 that are appointed to positions of responsibility, such as Activity Leaders or Youth Commissioners, are considered to be adult Scouters for the purposes of the Two Scouter Rule as long as they have completed the screening and training requirements expected of Scouts Canada Volunteers. Youth in leadership roles within their own Section or in support of another Section, such as Cub Scouts helping at Colony activities, are not considered Scouters. These are leadership opportunities that all youth should have and are part of the Scouting program.
Scouts Canada acknowledges that youth in responsible positions under the age of 18, while acting in their capacity as Volunteers, will by necessity have private one-on-one conversations with people over the age of 18. These conversations are not seen as harmful or suspicious in other circumstances outside of Scouts. With that said, we must ensure that young Scouters and their parents are aware that it is inappropriate for an adult Scouter to repeatedly seek out opportunities to be alone with them or to display undue attention or affection towards them. Scouts Canada believes these young Volunteers are responsible enough to take care of youth, hold confidential information, deal with sensitive situations, and are capable of having private conversations and interactions with adults without creating risk and liability. Therefore, Volunteers are not bound to the Two Scouter Rule when interacting with members under the age of 18 who are acting in a Volunteer capacity.
Help Centre
Still need help? Please feel free to contact the Scouts Canada Help Centre: