Scouts Canada is a Volunteer led organization and always looks for new Volunteers to ensure that youth across Canada get to have great, safe Scouting adventures. This article will break down the steps to register as a Volunteer with your local Group, as well as what screening is required for all Scouters.
What screening is required for Scouters?
Every new Scouter is required to complete screening elements before he or she can wear the Scouting uniform and participate. These elements include:
Police Record Check with Vulnerable Sector Search
A reference check with at least 3 passed references (only one of which may be a relative)
A signed Code of Conduct
Online learning
Formal Interview
Approval
You can find more information about the Scouts Canada Volunteer Screening Policy here.
Scouts Canada has a 'Find a Group' locator which is designed to identify the 10 closest groups to you based on your postal code. You can review the details on how to use this feature here.
**Note: Please have the contact details of 5 references on hand before beginning your volunteer registration**
In 'Find a Group'. If you see a group you would like to register with, and it has the option to 'sign in to register', or 'register as a volunteer', then you can register with the group online!
Going to 'create an account' will take you to a page where you can fill in all of your personal information to create your own myscouts account. Once you have created an account, and re-run the search in 'Find a Group', you should see these links updated as in the screenshot below.                                                        
You can now register yourself as a volunteer, or register your child as a participant. As this article pertains to registering yourself as a volunteer, click on 'register as a volunteer'. A pop up box will appear where you can confirm the registration year you are registering for and click 'continue'.
On the next option you will need to select 'Myself' as the person you want to register.
The next few screens are where you will verify your details. This information should be completely accurate and up to date, as these are the details which will be sent to the group you are registering with. Remember that fields marked with a red asterisk are compulsory. Click on 'save changes' to advance screens.
After entering personal information, you will arrive at the 'add role' screen, here you can select an appropriate role. It is important to select a fitting role or a default one will be added
Agree to the terms and conditions regarding the Scouts Canada privacy policy, terms of registration, medical policy and participant agreement. You will be able to read these policies in full on screen at the time.
After agreeing to terms and conditions, the registration confirmation screen (as below example) will confirm the registration details and price of the membership fee (the fee for Volunteers is $0). Hit 'continue' if you are happy with all these details.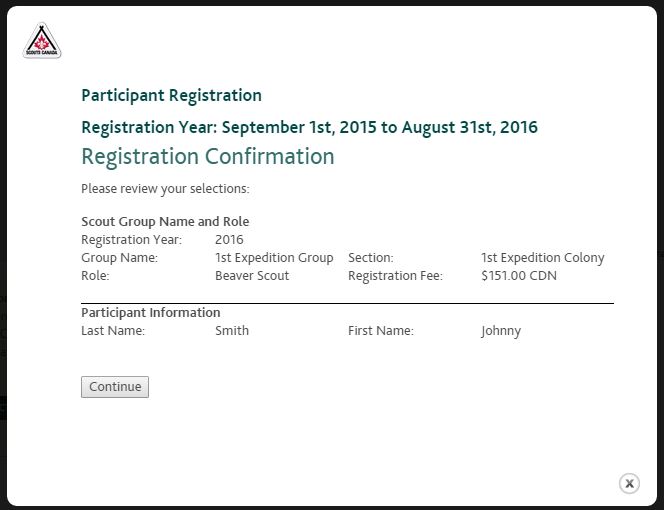 The next screen will ask you to enter your references. You can add each reference by clicking 'Add reference'. Scouts Canada asks for 5 references at the time of registration but once 3 have replied it will fulfill this portion of your screening requirement.
How do I register if I am a returning volunteer?
A new process was introduced in May of 2015 called 'Evergreen'. The process will automatically renew volunteers for subsequent years in their given role. The role can be ended if:
A Scouter no longer wishes to be a member;
A Scouter has not met membership requirements for more than 90 days;
A Scouter's membership has been terminated and he/she has been removed from Scouting.
As long as a Scouter continues to meet Scouts Canada's membership requirements (e.g. screening, training, annual Code of Conduct review), he/she will maintain their membership without the need to re-register.
Prior to September, an email confirmation will be sent to all active Scouters providing them an opportunity to opt-out if they do not wish to continue forward with their role.
Help Centre
Still need help? Please feel free to contact the Scouts Canada Help Centre: