How are volunteers (Scouters) screened by Scouts Canada?
Every new Scouter is required to complete screening elements before they can participate. These elements include:
Police Record Check with Vulnerable Sector Search
A reference check resulting in at least 3 passed references to become compliant
A signed Code of Conduct
Online learning
Formal Interview
Approval
You can find more information about the Scouts Canada Volunteer Screening Procedure here.
Scouts Canada has a 'Browse Groups' option which is designed to identify the nearest groups to you based on your postal code. You can review the details on how to use this feature here.
How to register as a volunteer (Scouter)
If you are a parent/guardian who is already registered with a MyScouts account
If you have a youth in Scouting who has been registered you already have a parent/guardian account that you used to register your youth. This account acts as an administrative account for your youth & will also serve as your account as a Volunteer.
If you are a parent/guardian/adult who is not registered with a MyScouts account please create a MyScouts account in order to register as a Volunteer HERE
If you have a MyScouts account your first step is to log in. Once logged in you will see the option to 'Volunteer' within your 'My Menu' on the left side of the page.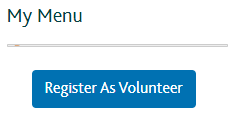 Once selected you will be taken to the Group Locator where you can search for local Groups using your postal code. If you see a Group that you would like to register with, and it has the option to 'sign in to register', select this & then you can register with the group online!




You can now register yourself as a Scouts Canada Volunteer! A pop-up box will appear where you can confirm the registration year you are registering for and click 'continue'.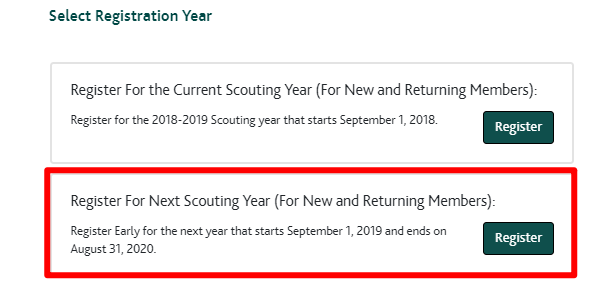 On the next option, you will need to select 'Myself' as the person you want to register.
The next few screens are where you will verify your details. This information should be completely accurate and up to date, as these are the details which will be sent to the group you are registering with. Remember that fields marked with a red asterisk are compulsory. Click on 'save changes' to advance screens.
After entering personal information, you will arrive at the 'add role' screen, here you can select an appropriate role. It is important to select a fitting role or a default one will be added.
Agree to the terms and conditions regarding the Scouts Canada privacy policy, terms of registration, medical policy and participant agreement. You will be able to read these policies in full on-screen at the time.
After agreeing to terms and conditions, the registration confirmation screen will confirm the registration details. Click 'continue' if you are happy with all these details.
The next screen will ask you to enter your references. Please note: family members are not permitted to act as references, and two references must have known you for at least 5 years. You can add each reference by clicking 'Add reference'. Scouts Canada requires a minimum of 5 references at the time of registration, but once 3 references have replied it will fulfil this portion of your screening requirement. Note: If you are unable to enter all of your references at the time of application, you may resume your application by clicking on Incomplete Registrations and finishing entering the references. Please be advised that you are only able to resume an application on the day that it was created.
Help Centre
Still need help? Please feel free to contact the Scouts Canada Help Centre: