Waitlists are started when a section (Beavers, Cubs, Scouts etc...) is "full". A section becomes "full" if the location where the group is meeting has a capacity limit that has been met or, more commonly, the section has the maximum number of youth per adult the section is permitted to maintain within our safety policy. We operate under a 8:1 youth/Scouter ratio. We also ask that the 2 Scouter Rule be maintained at all times.
How do I find out where I am on a waitlist?
Send a ticket to the Help Centre with the name of the Group and section. You can do this by selecting the Red 'Submit Request' button at the bottom of this article.
In addition to finding out where you are on the waitlist, we can put you in touch with the Group directly so you may speak to them about the Group.
For example: If your child is third on the waitlist & the Group recently registered a new Volunteer to become a Scouter this means ratio will go up and spots will open. Depending on where the Volunteer is within their screening process your youth may be in within a week or two.
How long are waitlists applicable?
Waitlists are applicable for 1 year. They are cleared traditionally in August before early registration opens for returning youth.
Who can add or remove youth from waitlists?
Only a parent/guardian has the ability to add or remove a youth from a waitlist.
Once a youth has been added to a section from the waitlist they will have a note next to their name on the waitlist saying they are 'Registered'. This means they are no longer active on the waitlist. This listing is not disrupting the function of the waitlist.
Scouters, including Group Commissioners, do not have the ability to alter the waitlist. Either by adding youth or removing them. The waitlist is automated to ensure the order which youth joined the waitlist remain the order they are added to the Group when a space opens up.
When a space opens an invitation is sent from the Group to the next person on the waitlist to register. Their space will be open for 48 hours from the time the invitation is sent. To ensure parents receive the invitation and reply in time Groups should reach out to the parent directly (via phone or /and email) to let them know a space has become available and that they should register.
How do parents/guardians add youth to a waitlist?
Log into MyScouts and select the green "Register My Child" button (left side of the screen) to start the registration process. Parent/guardian will be required to set up an account for their child, if not done so already.
If the child is listed with a Green icon

this means that the child is currently registered with a Scouts Canada Group and will not be able to be added to a waitlist.
If the child is listed with a Blue icon

this means that the child has not yet been registered, and can be added to a waitlist.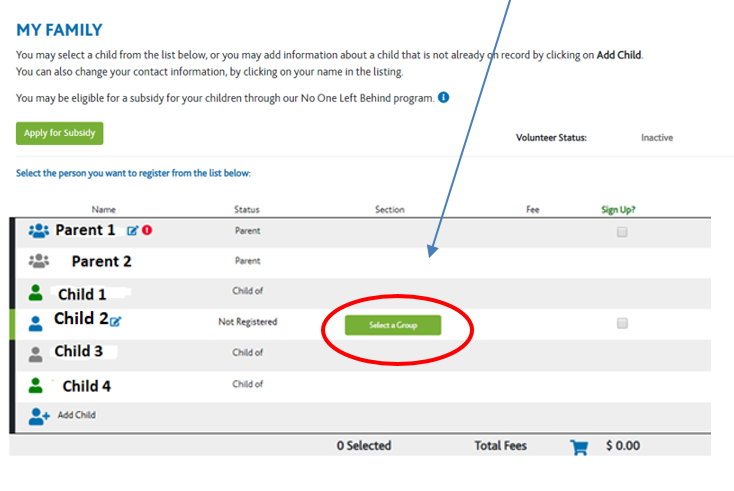 If the suggested Group is not your preferred Group, input your postal code and search for other Groups nearby.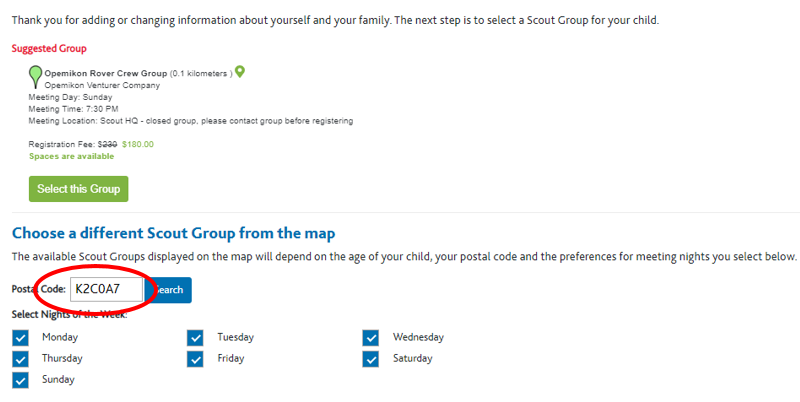 Once your child has been successfully added to a waitlist it will be listed next to their status.

How do parents/guardians remove youth from a waitlist?
The parent/guardian will log into their MyScouts account and select the green 'Register My Child' button from the left side of the screen. Only parents can remove their own youth from a waitlist, this isn't an ability Scouters (including the Group Commissioner) have.
To remove a child from the waitlist, click on the "Waitlisted " icon

next to the child's name.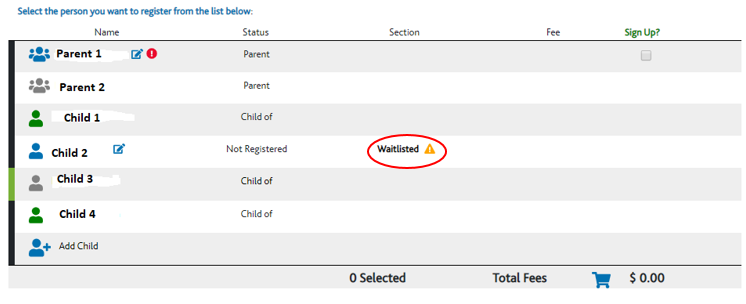 The next screen will be a confirmation of the wait list status. To remove a child's name, click on the "Waitlist My Child in this Section" and UNCHECK the box.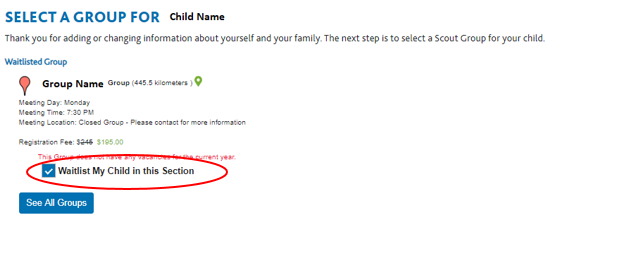 Can youth be registered with a group and also be on another group's waitlist?
No, wait lists are to help ensure all youth have the opportunity to participate in Great Safe Scouting Adventures.
If youth are seeking to be transferred ensure the Group you are being transferred to has space available. Reach out to the Help Centre for contact information. If it does not you should explore other Groups nearby or can be added to the wait list for that Group. Transfers cannot jump the waitlist.
Can youth be on multiple waitlists simultaneously?
Yes! You can on more than one wait list at a time if you are not yet registered with a Group. This will increase the chances of getting a spot in a Group nearby.
Can youth guarantee a spot and bypass a group's waitlist?
Parents/ guardians who become volunteers (Scouters) are guaranteed a spot for their youth. The spot is made available when volunteer screening has been completed and the parent's status as a Scouter is Active.
The newly active Scouter will be able to register their child bypassing the waitlist. Their child does not need to be on the waitlist in order for them to bypass it. As an Active Scouter registration is simply made available to complete without additional steps regardless of a waitlist.
Volunteer screening includes receiving a Police Record Check with Vulnerable Sector Search (in Manitoba & Nova Scotia a Child Abuse Registry Check is also required), 3 passed reference checks, online learning (5hrs), an interview and signing the Code of Conduct.
Help Centre
Still, need help? Please feel free to contact the Scouts Canada Help Centre.