The Canadian Path introduced the Top Section Awards so that youth in every Section have a cumulative award to work towards. In the spirit of youth-led Scouting, Section Leadership Teams have been tasked with approving Top Section Awards for their Sections.
As part of this new Group-centric approach to Top Section Awards, MyScouts.ca will be updated to allow Group Commissioners and Group Registrars to add Top Section Award records to youth's profiles.
This article focuses on the administrative aspect of this process for Group Registrars and Group Commissioners.
For detailed information on the Top Section Awards see FAQ Top Section Awards
How to add a Top Section Award in MyScouts in Five Steps
Step 1 - Find Recipient of the Top Section Award: Login to MyScouts and use the 'Find an Individual' option to find the recipient of the Top Section Award. Alternatively, use the 'Find an Organization' option to find the Group and select the name of the recipient from the Group's list of participants.  
Step 2 - Select 'Add Recognition': Found under 'Admin Options' within 'My Menu'.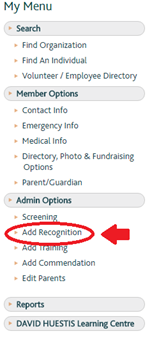 Step 3 - Select Top Section Award: Include the name of the Top Section award in the 'Search Recognition' field. Once included the Top Section Award name will appear and can be selected.

The names of the Top Section Awards 

Step 4 - Add Recognition Details: Add the application, approval and recognition date before clicking 'save'. The award is now added to the youth's profile!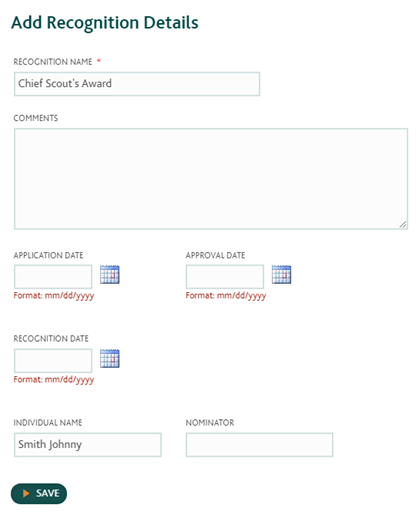 Step 5 - View newly added Top Section Award: To see your newly added Top Section Award return to the youth's MyScouts Account. The Top Section Award will be listed within the youth's profile under 'My Recognition'.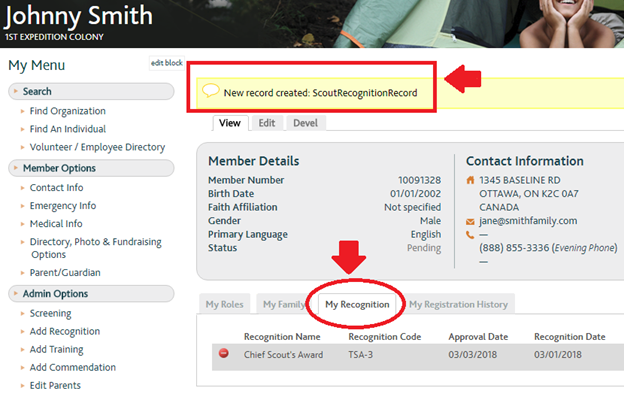 Help Centre
Still need help? Please feel free to contact the Scouts Canada Help Centre