When a donation is made to Scouts Canada where does the money go?
Registration fees only cover a portion of the cost to deliver a quality Scouting program. With registration fees set at $230 per year, our net membership revenue per youth is $207. But the cost to support a quality Scouting program is in reality approximately $260 per youth. Here's how fee revenue is allocated.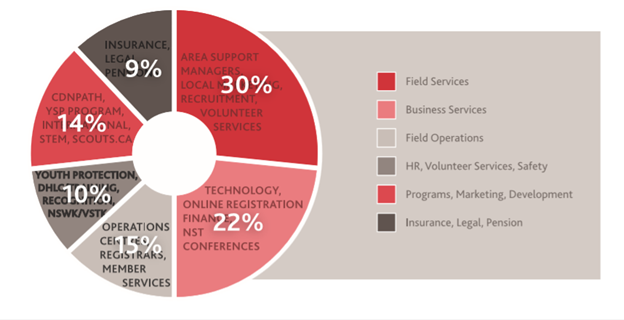 *Prorated based on the 2017-2018 Scouting year.
How much does it take to make a difference?
| | |
| --- | --- |
| $20 | A gift of $20 will provide a young camper with a Mess Kit (plates, cutlery) |
| $35 | For just $35, you can ensure a youth has a sleeping bag to let them sleep under the stars this summer. |
| $50 | For just $50, you can help feed a child during their stay at a summer camp. |
| $100 | A donation of $100 will help an underprivileged youth receive a backpack, sleeping bag, and the gear necessary to make lasting memories as summer camp. |
| $200 | A donation of $200 will create the summer of a life time for an underprivileged child by covering camp registration fees |
What are the different ways to donate independently?
Donate directly to a specific Group. If you would like to donate directly to the Group most special to you and receive a tax receipt ensure the donation is $20 or above and provide the Group with your contact information.
Official Donations Receipt for Groups
Becoming a monthly donor is one of the best ways to support Scouts Canada and our mission.
Every single donation, no matter what size, makes a difference.
This is a wonderful way to recognize someone special, mark a meaningful event or convey your sympathy.
If you have publicly traded securities such as stocks, bonds, and mutual funds, you can gift them to Scouts Canada.
Planned giving is an excellent way to make an impact with a gift that you and your loved ones can be proud of.
How to donate in the name of an organization (corporate donations)?
We work with our corporate partners to find Scouting programs and initiatives that resonate with their business and community investment goals, building healthy and mutually beneficial relationships.
To join Scouts Canada as a corporate partner and work together to build the future for our youth and Canada.
Please contact our Development team using giving@scouts.ca
What is the cost of Scouting compared to other activities? I want to ensure my donation makes a difference!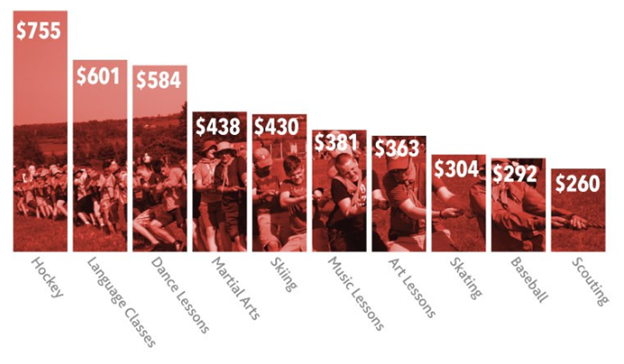 *Prorated based on the 2017-2018 Scouting year.
Groups do fundraisers why are donations needed?
Fundraisers are traditionally organized by Groups to fund Group activities whereas donations to the No One Left Behind program go towards covering the costs of Scouting for youth from low-income households & provide the opportunity for all youth to have great safe Scouting adventures!
Yes! Donations of $20 or more are eligible for a charitable tax receipt.
When you submit your donation include a note requesting a receipt.
What is Scouts Canada's Charitable Registration Number?
Charitable Registration Number: 107761694RR0028
Does Scouts Canada accept other donations such as uniforms, equipment, badges etc…
Yes! This is done on a case by case basis.
For Scouting paraphernalia such as historical uniforms, badges, crests, etc… these would go to the Scouts Canada Museum. To donate items to our museum please reach out to the lovely volunteers who run the museum using museum@scouts.ca
Still need help? Please feel free to contact the Scouts Canada Help Centre: