Parents staying overnight at activities – not helping Scouters and Parents or Other Adults supporting Scouters at overnight activities are asked to successfully complete the training session titled Safe Scouting for Parents as per the Volunteer Screening Procedure.
This training takes roughly 30 minutes.
How to access Safe Scouting for Parents training
To access the training, you will need to log into your MyScouts profile.
Once you have logged into your MyScouts account, click on the "Safe Scouting for Parents" button found within 'My Menu' on the left-hand side of your screen.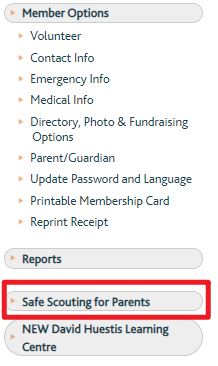 Help Centre
Still need help? Please feel free to contact the Scouts Canada Help Centre: