Group Commissioners play a vital role in building a healthy and vibrant Scouting movement in Canada. We make the most impact when Groups are delivering the program, guiding a team of engaged Scouters and effectively managing operations. It is where Scouting is delivered. It is where youth develop well-rounded skills for future success.
We have developed the Group Health Navigator to give Group Commissioners a tool that they can use to evaluate their Group's behaviours and management.
What is the Group Health Navigator?
The Group Health Navigator helps Group Commissioners develop an action plan that will contribute to long-term sustainable growth by measuring behaviour against the Five Priorities for Success.
With an emphasis on these priorities in your role, The Group Health Navigator will help you focus on the right activities to prioritize and continuously improve your Group's Health.
What are the different types of Group Management that I can evaluate my Group against?
There are four stages of Group Management that Groups progress through. The goal for Groups should be to reach at least stage 3 of maturity in each measure of Group Health.
STAGE 1: Passive Management: The Group offers fun and safe activities for youth; however, management is limited and largely reactive.

STAGE 2: Thoughtful Management: The Group engages in basic planning with some thought given to key stakeholders.

STAGE 3: Proactive Management: The Group engages in rigorous planning and consults stakeholders to anticipate future needs.

STAGE 4: Management Excellence: The Group operates with a high degree of professionalism; plans are fully integrated and ensure long term success in the community.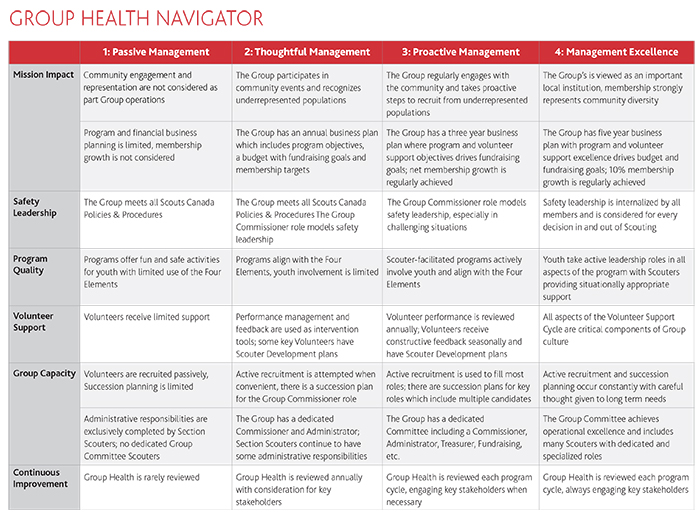 The chart above is available for download below 
Help Centre
Still need help? Please feel free to contact the Scouts Canada Help Centre