How to add an interview to a Scouter's MyScouts account
Interviews are completed by two interviewers who have completed interview training called 'Volunteer Screening: It is our Duty" (26 minutes) located in the David Huestis Learning Centre accessed through your MyScouts account.
The Group Commissioner and Registrar have the permissions in MyScouts to add interviews to a Scouter's MyScouts account.
Login to MyScouts and open a member's profile by using 'Find an Individual' under 'Admin Options' in their account select the screening option from the left-hand menu.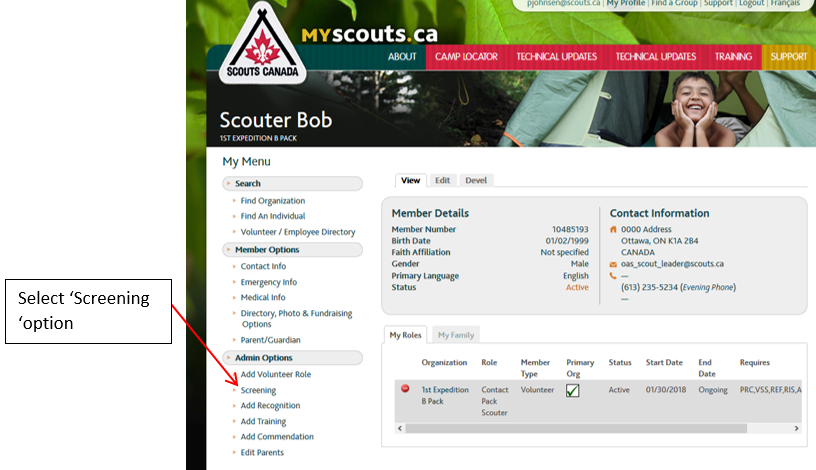 From the Screening window that opens, select the Interview tab and Add Interview to add a new interview.
If the group is already listed under Organization Name select 'Add' listed next to the group listed with the missing interview.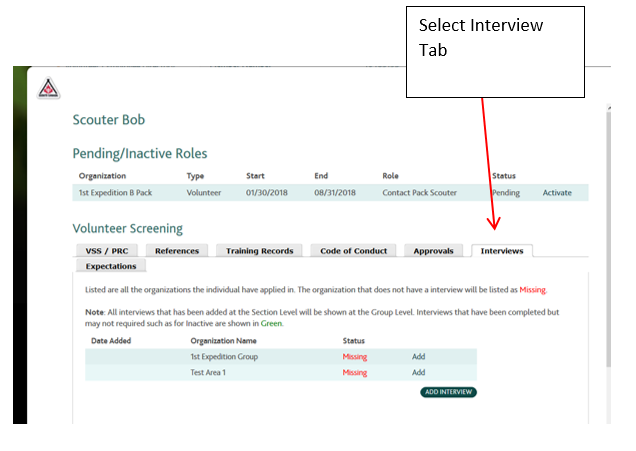 Next add the interview information. Remember to make sure the right group is chosen using the 'Organization Name' tab.
Here is the Screening Interview Guide used for adult Scouter Interviews. Youth are interviewed a bit differently, although the questions in MyScouts remain the same, for youth follow the Interview Assessment Guide for Youth Aged Applicants

These are the questions listed in MyScouts that need to be responded YES to (using the drop down feature)to qualify as a successful interview.

Commits to appropriate adult volunteer/participant interaction.
Commits to providing challenging programs.
Commits to active expression of the Mission, Principles and Promise.
Commits to outdoor programming.
Commits to personal development.
Commits to be a positive role model.
Commits to being open, honest and objective.
Commits to Shared Leadership Approach.
Commits to child protection and safe programming.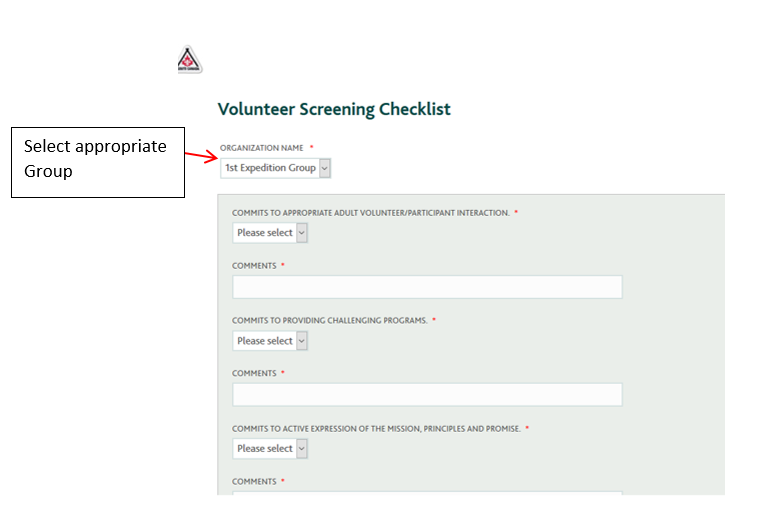 When completed the interview will be listed with a 'Completed' status in green