When are interviews and references added to a Scouter's MyScouts account?
Completing a successful interview and three passed character references are both requirements of The Volunteer Screening Procedure.
Interviews and references are two components of the procedure that are completed both when a Scouter joins their first group and are completed again if a Scouter changes groups or joins a second group. This means interviews and references in MyScouts are always aligned to a specific group.
Registration in their chosen role and Group Commissioner Approval is also needed for each group a Scouter joins.
Note: PRC/VSS. CAR (Manitoba & Nova Scotia), ELearning (Scouting Fundamentals / Wood Badge l), Code of Conduct (annually), Council Approval (CAP) and all other training need to be updated only if/when they expire or if a requirement changes.
Who completes and adds interviews to a Scouter's MyScouts account?
Interviews are completed by two interviewers who have completed interview training called 'Volunteer Screening: It is our Duty" (26 minutes) located in the David Huestis Learning Centre accessed through your MyScouts account. One of the two interviewers must have at least 5 interviews completed.
The Group Commissioner and Registrar have the permissions in MyScouts to add interviews to a Scouter's MyScouts account in addition to your Relationship Manager.
How to add an interview to a Scouter's MyScouts account?
Open a member's profile and under 'Admin Options' select the screening option from the left-hand menu.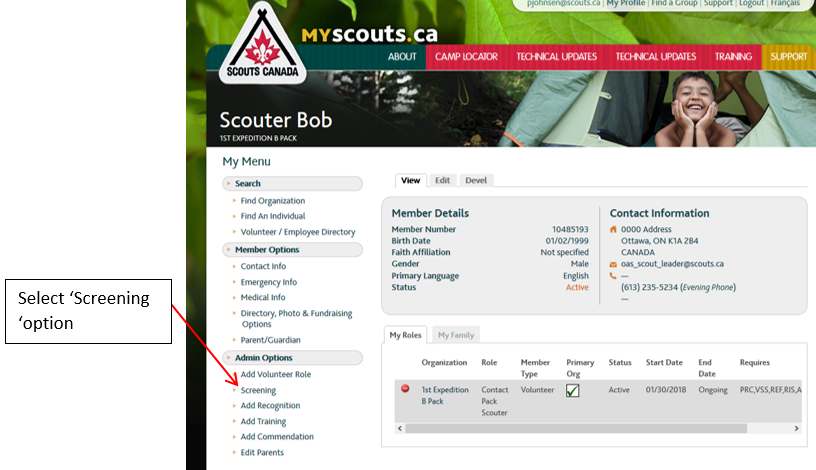 From the Screening window that opens, select the Interview tab and Add Interview to add a new interview.
If the group is already listed under Organization Name select 'Add' listed next to the group listed with the missing interview.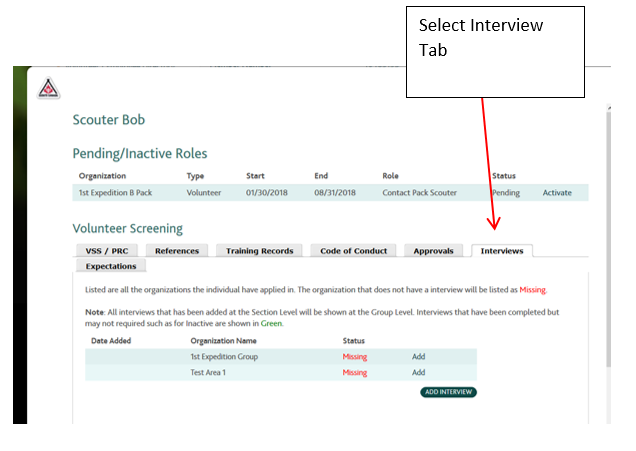 Next add the interview information. Remember to make sure the right group is chosen using the 'Organization Name' tab.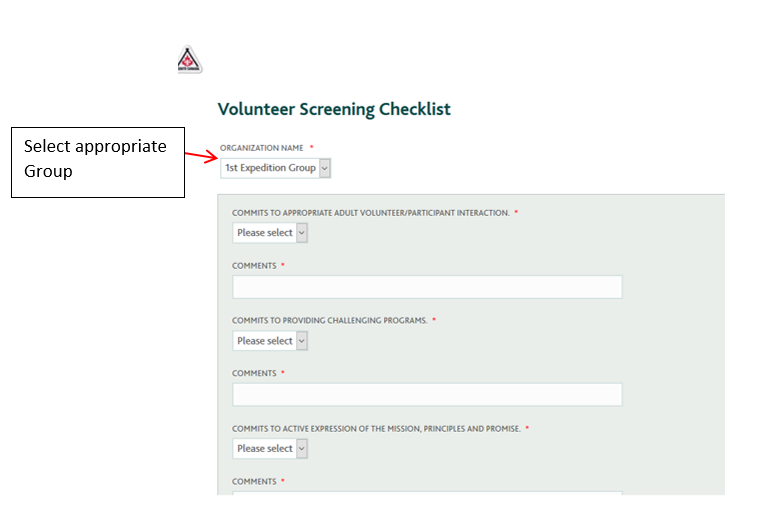 When completed the interview will be listed with a 'Completed' status in green.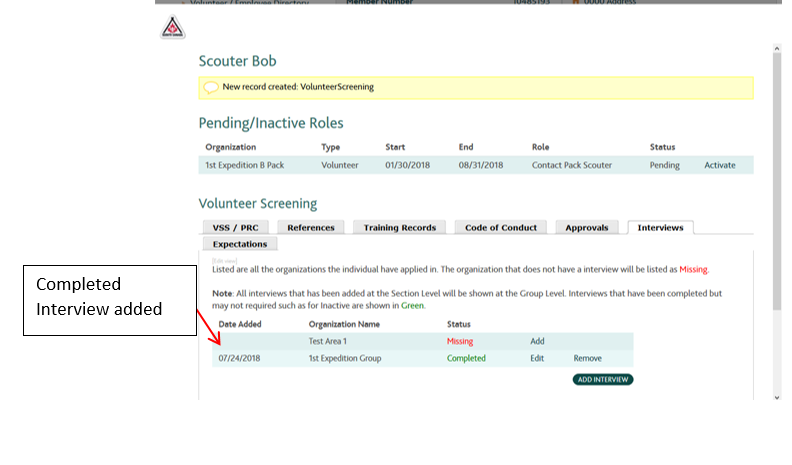 Who completes and adds references to a Scouter's MyScouts account?
For new Scouters Backcheck (a third-party reference checker) completes the reference check.
When a new Scouter completes their application in MyScouts they are asked to add five references in their registration. Our system is connected with Backcheck when three or more references are added during the registration process they are sent and verified by email through Backcheck's system. If passed they are uploaded to the Scouter's MyScouts account automatically.
For previously screened Scouters the Group completes the reference check.
When a Scouter who has previously completed references completes registration with a new Group they can bypass the screen that lists their references with their previous Group. References are required for the new group, however, they are completed by the new group, specifically the Group Commissioner, rather than through MyScouts using Backcheck.
When the Group Commissioner manually completes references for a Scouter transfering to their Group they are asked to contact the Group Commissioner of the Scouter's previous Group (or additional Group if they are trying to be a part of multiple Groups) and ask for a reference from that Group Commissioner.
The Group Commissioner simply touches base with the Scouter's original Group to confirm how the Scouter participated with their original Group.
If the Group Commissioner receives a positive reference from the previous Group and does not feel the need for additional references to be completed they would add the other Group's Group Commissioner as a reference and check
How can I add group-specific references to a Scouter's profile in MyScouts?
This process is very similar to the way references were previously added and to the way interviews are now added. To add group-specific references:
Open a member's profile and under 'Admin Options' select the 'Screening' option from the left-hand menu.
In the Screening window, select the references tab.
The References tab now has a drop-down menu that Commissioners or Registrars can use to add the Group to the reference.
For most Scouters there will only be one Group and it will not be necessary to select a Group.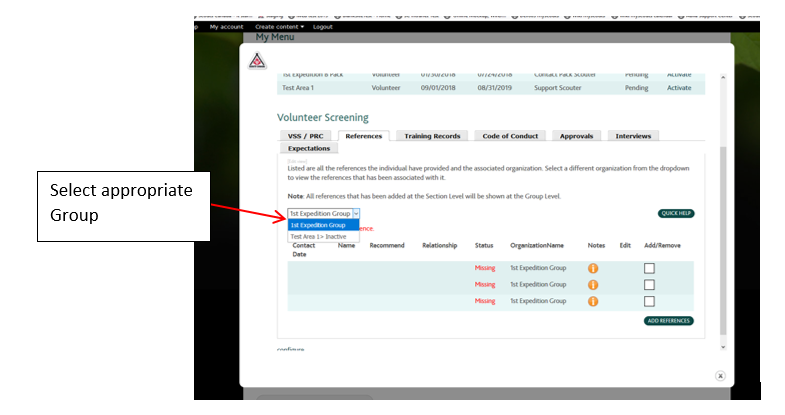 In the event that the Group is not selected or the incorrect Group is selected, the Commissioner can change the organization in the 'Add Reference' page. Aside from the ability to select a different Group or organization, the rest of the 'Add Reference' page is the same as before.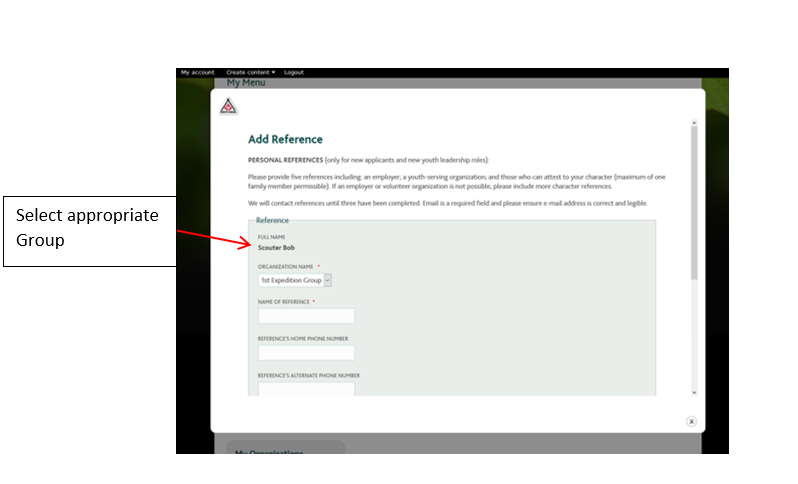 This is how the page should appear once you have successfully added the reference manually: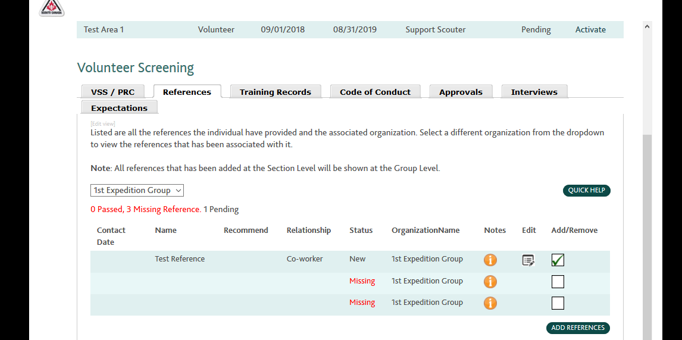 When a Scouter changes Groups they are asked to complete a new reference check and interview. References are to be done manually either by email or telephone by the Group Commissioner. References are not automatically sent to Backcheck if added in MyScouts when a Scouter already has 3 passed references on file from another Group. This is why the Group Commissioner is asked to complete references manually.
Please note: The Scouter can choose to use the same people for their reference check as they have previously, however, a new reference check and interview must be completed by the new Group.
For active Scouters in more than one Group, the MyScouts update added interviews and references for all of their Groups . This avoided the unnecessary burden of manually adding interviews and references for existing Scouters who had already completed this screening process.
Commissioners will now need to ensure that all Scouters registering with a new Group complete an interview and reference check and add these to the Scouter's profile.
Help Centre
Still need help? Please feel free to contact the Scouts Canada Help Centre