This article is to guide Group Commissioners and Group Registrars how to add Volunteer Roles in MyScouts. 
A complete list of each member's organizations/roles can be viewed in their member profile under the
My Roles tab; members and roles can also be viewed in the organization profile under the Volunteers tab.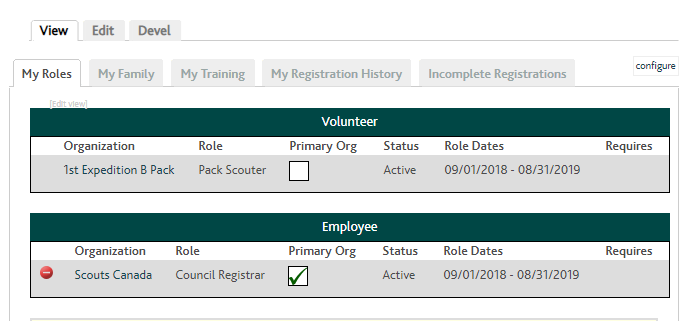 Step 1: To access the organization's account where the member is to be added as a Volunteer use the 'Find Organization' tool. 

Step 2: From the menu, under Org Options, select the role you would like to add: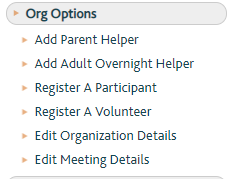 If 'Add Parent Helper' is selected a screen where a list of the parents who are registered in MyScouts with an account appear to select from.

 If you would like to add a 'Parent Overnight' you will select 'Parent Helper' 
Once selected it gives you the option to add a 'Parent Overnight' or 'Parent Helper'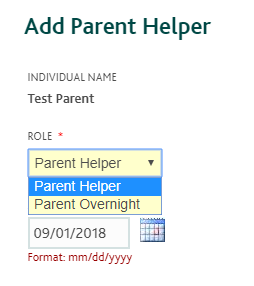 Once 'Add Parent' is selected 
If 'Add Adult Overnight Helper' is selected a screen where the option to either find the already created MyScouts account or begin registration on behalf of the Scouter appears. 
The process for adding a new Adult Overnight Helper is to have them complete a paper application with their information so you are able to move forward with their registration with the correct information in hand. 
For a paper application & further information on this process please see: How to register as a 'Parent Overnight' or 'Adult Overnight' Volunteer.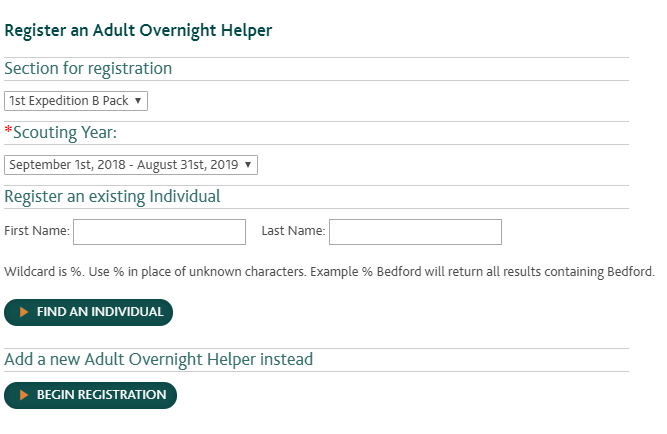 If 'Register a Volunteer' is selected a similar screen as 'How to Register an Adult Overnight Helper' appears. This screen also offers the 2 options of either adding the role to an already created MyScouts account using 'Register an existing Volunteer' or 'Adding a new Volunteer' and initiating their registration on their behalf.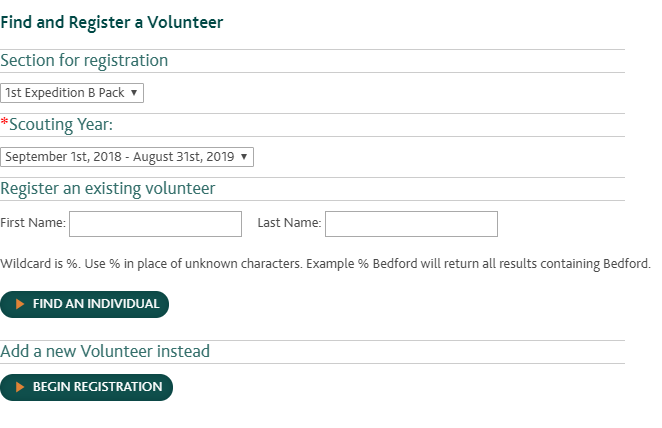 2. To complete the "add role" configuration, we must now determine the appropriate Primary Role. To determine the appropriate Primary Org in each case, please consult the following guidelines:
Organizational structure is as follows (beginning with most senior to least senior): National, Council, Area, Group, Section. The most senior role should be Primary. If multiple roles exist at the most senior level, then Commissioner roles (ie. Council Commissioner, Area Commissioner, Group Commissioner) take precedence over other roles within that Area.
Member type seniority is as follows (beginning with most senior to least senior): Employee, Volunteer, Participant.
To change the Primary Org for a member record:
Access the individual profile for the member which will receive an updated Primary Org 
From the individual profile, select the My Roles tab;
From the list of individual roles, under the Primary Org column, click on the checkbox of the role which should be marked as the Primary Org.
The individual profile will refresh and indicate that the member record has been updated successfully.
Help Centre
Still need help? Please feel free to contact the Scouts Canada Help Centre: